Fall for our Cat's Jewel & Accesories 😻
Stand out from the crowd and assert your love and passion for cats !

Do you want to make someone else happy with an original and outstanding product cat products ?

At Cat's Lover® you will find the most adorable products around the Cat Universe ! Shop Cat Clothes Jewelry, home decor and much more all with the cat's effigy !
Cat Clothes for Women
Our Cat Clothes For Women showcase unique cat clothes for an original feline look ! Shop Cat T-Shirt, Hoodie, Socks and much more cat's products !
Discover our collection of Cat Jewelry
Our Cat jewelry collection is the place to shop ! Find Kitty Rings, Necklaces, Ornaments for a refined and delicate mistress-cat look.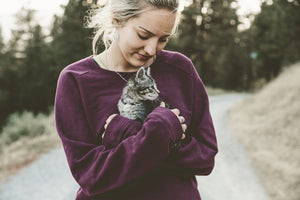 CAT'S LOVER PRESENTS ITSELF !
Have you always dreamed of finding the most cute and beautiful 100% Cat Products ? Then welcome to Cat's Lover® the wonderland for every feline's lovers 🐱,

Born in 2009, Cat's Lover is a cat specialized store creted to pay tribute to our favorite animal. Managed by a bunch of passionate cat's owner we have todays more than 9,000+ satisfied client all around the world.
Cat's Lover was born from the desire to pay tribute to these balls of fur that bring us happiness and comfort on a daily basis, and to please all women and men who love their cats and kittens tenderly.

All our collections are made for you, humans, but pay tribute to these balls of fur that bring us joy and hapiness every day. For yourself or someone else, theres is many kitty collection for all the tastes such as Cat T Shirt, Cat Ring, Cat Watches, Cat Mug, and many more... .

Nowadays, our passionate team is still working hard to develop and design outstanding kitty products that fit with your state of mind. We are believing in community work which is why we ask our loyal customer by e-mail their feedback in order to help us choosing the best feline collections and design.

What About Cat's Lover® jewelry store ? We are always working hard on the collection and right now you can find: cat rings, cat pendants, cat necklace and sets in sterling silver (925 Sterling) and zirconium oxide diamonds (white, turquoise, pink)

Did you know that we are also developing real cat products ? Shop the best cat trees with many different sizes from the small cat tree to the giant one over 80" / 2 meters high.

Because it is on each of you that our little cats come to life...
The Cat's lover team is very grateful about the love we have since so many year. THANK YOU 😺
Join Cat's Lover club !
And like more than 5,000 cat's owner, get special discounts and advantages in our store !